Honored to have our new book included in LeadershipNow's "First Look" at the best leadership books coming in June 2019!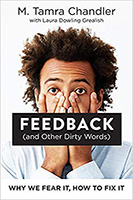 Feedback (and Other Dirty Words): Why We Fear It, How to Fix It by M. Tamra Chandler with Laura Grealish
Feedback: the mere mention of the word can make our blood pressure rise and our defenses go up. However, if we take a step back and think about its true intent, we realize that feedback needn't be a bad thing. After all, understanding how others experience us provides valuable opportunities to learn and grow. When it's done right, feedback has been proven to be the most effective means of improving communication and performance for you and your organization.
Check out the full list HERE!